Hello, earthlings and extraterrestrials!
As my not so creative title implies, CAMP NANO IS COMING.
Make ready the cannons.
poor napoleon.





Clearly, the approaching of Camp NaNo is cause for panic, yes? (Let's be honest, is there anything that ISN'T cause for panic?) The answer to that parenthetical aside is- NO. Everything is a reason to panic. Cannons are always necessary.
Of course, the problem is...
WHAT EVEN AM I SUPPOSED TO WRITE?
And because obviously you guys know the answer to that and need to read about my rambling thoughts, I am writing a lovely post about it for you.
this is not a GIF of childhood. those come later.
So. I mean, I don't even know what I'm so scared of? I've done this before? yes, i failed the last nano. be quiet. i won the others.
Problem #1
I mean, I have that idea with the android and the snarky little kid and the explosions, then I have Dragoncologist, then I have a sci-fi Wonderland retelling idea....
Help. I like ALL the ideas? I really should do Dragoncologist, but to be honest, I just kind of am scared to attempt it again. I really like the idea of it.... but what if... something. See, I don't even know what in particular I'm worried about!
Look! Talking food! My CHILDHOOD! There's still no hero quite like Larryboy.
To be honest I'll probably do Dragoncologist.
Or the snarky kid and android idea.
But probably Dragoncologist.
maybe
.
I don't know, just so conflicted all the time. Maybe more coffee will help. Or watching LEGO Batman again. Not that I'm obsessed, or anything....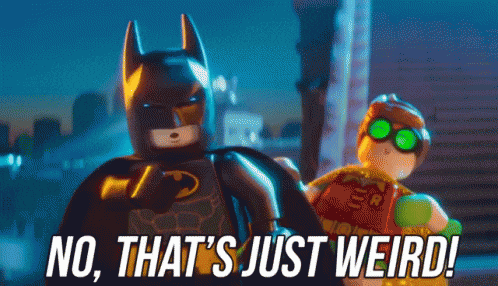 this isn't childhood, this is life as i know it.
*looks up at ceiling* *twiddles thumbs* Okay, yes, fine, I am 100% obsessed and I cannot help it and you should be obsessed with it too.
Problem #2
WHAT SHOULD MY WORDCOUNT GOAL BE? Yes, I'm doing words. I refuse to do one of the #special ways of counting my progress. I don't like change.
How busy will I be?
How much do I think this story can take?
What if the world ends halfway through writing and then there is no way for me to finish it?
Problem #3
What if I am expected to socialize during Camp NaNo? There will be mutiny and bloodshed, let me tell you. Have this weird feeling that all conversations will go like this:
real footage of me being an antisocial writer. not kidding.





It'll be fine.
Problem #4
There are only three problems!
//
Thank you for reading my GIF-heavy rambling nonsense. Have a latte! *offers you latte*
Now, the camp cabin offer still stands! If any of you want to be added, just comment with your Camp NaNo username.
Also
the amazing
Cait @ Paper Fury
is having a giveaway for her sixth blogging anniversary! Go read her extremely long post and enter her
extremely amazing giveaway
. Also leave her an extremely amazing comment. We are amazing extremists.
Are you chill or panicking about Camp NaNo? Are your cannons ready? Was Veggie Tales your childhood? if not, then your childhood was sad, good sir.