CampNaNo is beginning, my dear friends.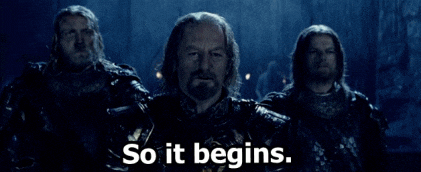 We probably don't look as dramatic as these guys.
What have we gotten ourselves into? One of the busiest months of the year, and we all decide to write novels.
I've been looking at my mom's calendar, where she writes down what we're going to do for the month. Each time I remember that I'm doing NaPo and NaNo, I think:
Could be worse. Could be 100%.
I mostly think of that, because Rogue One is beautiful and I may be slightly obsessed with K2.
I've decided that this month I'll just reward myself by renting Fantastic Beasts and Rogue One to watch again. You guys going to be watching them? I hope you are because I want to meet my fellow fankids!
(Can I have a Niffler please? Pretty please? Please? I want one so badly.)
Alright, now I have to go write and also restock my caffeine/chocolate supply.
Are ya'll doing the write-in today? Are any of ya'll on MyWriteClub? If so, we should totally follow each other this month! Have you guys made sure your chocolate supplies are ready for the battle ahead?
May the Force be with you, and live long and prosper!